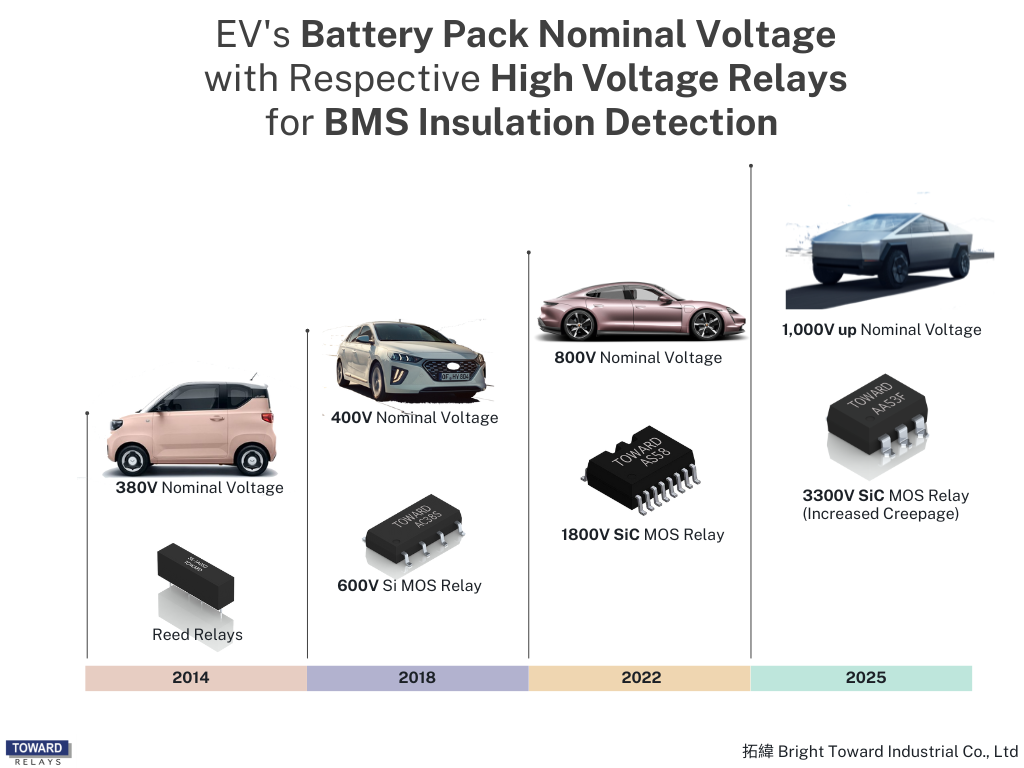 The key to long-range EVs: Opto-SiC MOSFET Relays applied on BMS
Battery Management System is a crucial technology managing entire battery packs placed in electric vehicles. These battery packs are composed of many battery cells. The oversight that a BMS provides includes Insulation Monitor and Detection, reporting operational status, and continually optimizing battery performance by balancing each cell's remaining power. Opto-MOSFET Relays (a.k.a Solid State Relays) can be applied to all three functions. This article will go through Bright Toward's newly introduced Opto SiC MOSFET Relays and their role in BMS's Insulation Detection.
---
What is BMS (Battery Management System)?
What is Insulation Monitor/Detection?
The insulation Monitor/Detection function in BMS ensures the battery insulation is healthy and no leakage occurs. It works like this: If the insulation in any battery cell deteriorates, a ground-fault current passes through our relay, outputting an alarm signal. The relay has to withstand a voltage higher than the nominal voltage of the battery pack, usually with a buffer. For example, a battery pack with 800V nominal voltage usually requires a relay with a load voltage greater than 1600V.
Why is there an increasing need for higher load voltage Solid State Relays in BMS?
Early electric cars suffered from low ranges and slow charging times. To increase the EV's range and improve charging speed, battery manufacturers need to increase the total voltage and current rating. Therefore, relays rated at higher voltages must ensure the insulation monitoring function works properly. Bright Toward has been supplying major automotive battery manufacturers worldwide; we saw the demand for higher load voltage solid state relays increasing. A Silicon-based Opto-MOSFET Relay's physical limit is around 1500V; therefore, we initiated the development of Silicon Carbide based Opto-MOSFET Relays in 2016 to improve load voltage further. We successfully announced the product line in 2018. Major automotive companies validated our SiC Opto-MOSFET Relays in the following few years. As of 2022, Opto-SiC MOSFET Relays' monthly production has exceeded 4,000,000 pieces. 

So far, major automotive companies have validated our 1800V Opto-SiC MOSFET Relays (AA58, AS58) with mass production ongoing. Our 3300V Opto-SiC MOSFET Relays (AA53, AS53) are also production ready, with validation ongoing. Our 6600V Opto-SiC MOSFET Relays are in the process of qualification with engineering samples ready. Bright Toward is prepared for the future and would love to be a part of your design.
Related Products