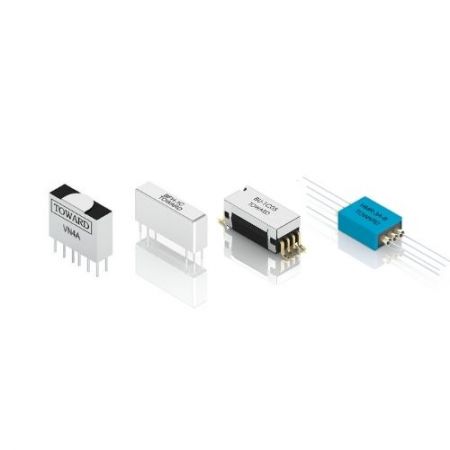 High Voltage Reed Relays, High Current Reed Relays, Vertical Reed Relays, RF Reed Relays, Miniature Reed Relays.
Reed Relays
TOWARD RELAYS™ has been committed to the design and manufacture of Reed Relays for over two decades. We concentrate extensively on constant quality improvement, keeping the resistance value low and stable throughout each reed relay. Additionally, we are also focused on developing high load voltage, and high load current capabilities; our LRL series reed relay can load voltage up to 20,000V, with TMR series reed relay carrying current at 20Amps while withstanding 30Amps of pulse currents.
Furthermore, as we saw the increasing need for more miniature relays on semiconductor test boards where PCB real-estate is limited, we developed a series of multi-channel standing reed relays, the VN series, to fully satisfy our customer's needs. Besides unique specifications, we have fully automated production lines for ATE grade reed relays in our manufacturing plants, with a monthly production capacity of 2,000,000 pcs.